How Do We Cut Glass Using a Water Jet?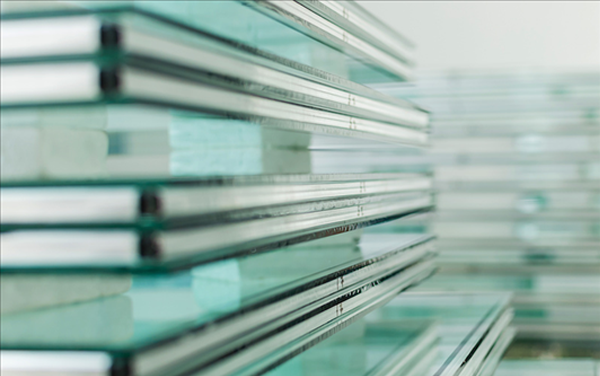 We use what is called an abrasive waterjet which uses the water as the propellant and mixes in an abrasive material to accelerate the cutting process.
Cutting the Glass
The cutter is connected to a high-pressure water pump where the water is then ejected out of the nozzle, cutting through the glass with a stream of high-speed water. Additives in the form of suspended grit or other abrasives, such as garnet and aluminum oxide, assist in this process.
Because the nature of the cutting stream can be easily modified, waterjets can be used to cut glass for various projects. The most important benefit of the waterjet cutter is its ability to cut glass without interfering with the glass' internal structure. This allows the glass to be cut smoothly and efficiently.
The Benefits of Waterjet cutting
There are several advantages to cutting glass using the water jetting process:
A Smooth Cut
A waterjet cutter's highly pressurized stream of water provides an exceptionally smooth and controllable tool. Controlling the speed of cutting allows thin or thick glass or ceramic to be smoothly cut very economically.
A Precise Cut
An omnidirectional jet stream can cut almost all shapes down to 0.1mm in thickness. The high pressure generated from the machine's water pump creates pinpoint accuracy to smoothly cut holes, notches, and details without distortion.
This level of precision makes waterjet cutting optimal for applications in all types of industries — automotive, lighting, architecture, energy, marine, medical, aviation, and more.
Complex Cuts
Water jetting gives us the ability to cut complex shapes. Sharp corners, bevels, pierce holes, and shapes with minimal inner radii are all possible utilizing this technique. Stacking, nesting, and tabbing optimize material and can significantly reduce cutting times.
Glass Fabrication Services for Your Business
Northwestern Glass Fab offers customized glass fabrication for contractors, designers, manufacturers, and designers. All of our products are made to order, allowing for complete customization to fit your architectural needs.
https://www.nwglassfab.com/wp-content/uploads/sites/7/2018/06/The-Benefits-of-Insulated-Glass-for-a-Commercial-Building-1.png
376
600
theboss
https://www.bringlass.com/wp-content/uploads/sites/7/2022/12/logo-Northwestern-Glass-Fab-2.png
theboss
2018-12-13 09:37:34
2022-12-16 11:30:02
How Do We Cut Glass Using a Water Jet?