Commercial Interior Designers
Northwestern Glass Fab is the premier glass fabrication and design company for interior designers and contract furniture dealers in the Twin Cities Metro area. The number one reason our interior design customers love working with us is our fully customizable glass products and superior glass fabrication services. We don't just offer quality products, we offer complete solutions to complement your designs. Our experienced glass technicians continue to exceed client expectations, one project at a time.
Interior Designers and Remodelers
If you're an interior designer or remodeler and need extra design inspiration, as well as the perfect artistic touch, we can provide a customized solution for you. For more information about the products we can customize, view our Products and Services page. For each of our products listed, Northwestern Glass Fab also has the capabilities to give each piece a one-of-a-kind look. Our experienced technicians give every glass product added beauty and, if required, safety. Options include:
Tempering
Insulating
Water jet cutting
Hole cutting
Painting
Etching
Custom shapes
Edge polishing
Custom vinyl applications
Glass bonding
Designers and their clients want products that are truly unique and functional to decorate their spaces. We create glass products designed for homes, businesses, retail stores, and more. Northwestern Glass Fab's architectural and artistic glass products are sure to make a design statement.
For more information about our glass fabrication capabilities and how we can help you make your next project shine, contact us at 763-762-1750. For over 100 years, Northwestern Glass Fab has served our clients with specialty glass fabrication services and solutions.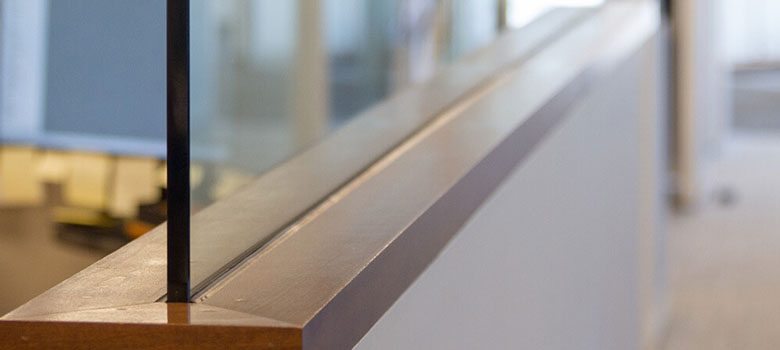 Contract Furniture Dealers
Northwestern Glass Fab provides quality glass and aluminum products for clients in the contract furniture industry. Whether you require multiple glass marker boards with custom mounting solutions or you're an interior designer looking for glass walls for a heavily used commercial space, Northwestern Glass Fab is there. We also produce beautifully crafted glass for hotels, office spaces, airports, schools, and more. We have the capabilities to custom fabricate glass or aluminum products to make any space become a unique and functional space. Products commonly requested include the following:
Glass partitions
Demountable glass wall systems
Custom glass tabletops
Glass marker boards
Custom mirrors
Painted glass
We work with a variety of interior design specialists who require unique and practical solutions for their commercial projects. With our experience and unlimited resources, you can count on Northwestern Glass Fab as your full solution provider.
Fully customizable
All of our glass can be fabricated to any size, shape, design, or style. Whether it is polished holes, polished or beveled edges, or special shapes and colors, our fabrication specialists do it all.
Type of glass. Your choices are not limited to that stereotypical clear, smooth finish. You can choose patterned glass, painted glass, frosted glass, etched glass, etc. for your design.
Glass thickness. Whether you require a thicker and more durable glass for use as a standalone tabletop, or simply need a stylish glass desktop cover, we have multiple thicknesses of glass to choose from to meet the needs of your client.
Custom shapes. Though we have experience cutting traditional glass shapes (square, circular, rectangular, etc.), our experts can custom cut any shape to your specific design preferences. We digitally trace the pattern desired and utilize our sophisticated glass cutting equipment to make an exact duplicate of the shape you are looking for.
An Ideal Partner for the Contract Furniture Industry
Northwestern Glass Fab is leading the industry in glass fabrication, glass cutting, and a variety of other glass manufacturing specialities. Our custom glass capabilities provide our partners with eye-catching glass products for use in any situation. For more information, contact us today at 763-762-1750 to get started.