Custom Fabricated Glass Marker Boards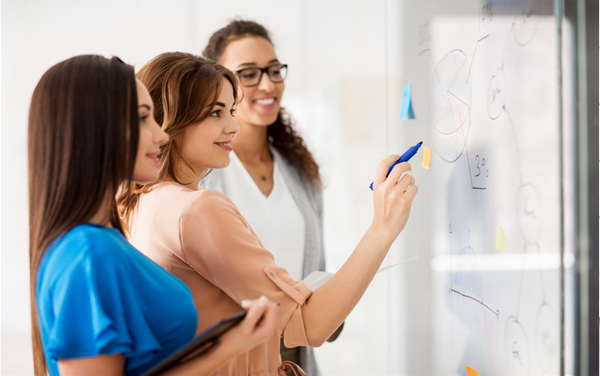 Custom glass marker boards are utilized in numerous industries and agencies across the country. Glass marker boards have become increasingly popular in churches, corporations, education facilities, and government agencies.
Northwestern Glass Fab offers glass marker board fabrication for your business or agency. To find out more about our products, contact us at 763-762-1750. Below we go over the features and benefits of glass marker boards, and why they are an excellent choice for your company.
Fabricating Glass Marker Boards
Glass marker boards are unlike traditional whiteboards. They are fabricated just like standard glass but are back painted to give them the look of a standard whiteboard. Glass offers a cleaner and more durable finish for writing and cleaning is much easier than that of a traditional marker boards.
There are options for glass fabrication. Most clients choose either a traditional white back painted or frosted glass. We can also logos or other designs to the glass, as well. Your design options are limitless with our custom designed marker boards.
Industries That Utilize Glass Marker Boards
Northwestern Glass Fab has fabricated marker board available for use in any industry. We find that clients may have many specific needs within a facility. Those looking for cleaner, more durable, and better-looking marker board options choose to use Northwestern Glass Fab to match all of their specific requirements.
Common industries that utilize our custom whiteboards include:
Medical Facilities
Architecture
Schools and Universities
Engineering Firms
Corporations
Churches
Glass Marker Board Finish Options
While white is the most popular glass dry-erase choice, you can order a glass whiteboard in virtually any color oro finish. You can color-match your custom color to coordinate with existing logos and brands to make your marker board a unique expression of your company's image.
Glass Marker Board Fabrication
Northwestern Glass Fab offers custom marker board fabrication for all types of unique applications. We can customize your marker board according to size, transparency, or finish.
To find out more about our custom fabricated glass products, or to place an order, please contact us at 763-762-1750. You can also message us on our contact page.
https://www.nwglassfab.com/wp-content/uploads/sites/7/2022/12/Custom-Fabricated-Glass-Marker-Boards.png
376
600
theboss
https://www.bringlass.com/wp-content/uploads/sites/7/2022/12/logo-Northwestern-Glass-Fab-2.png
theboss
2018-10-13 09:29:12
2022-12-16 11:30:03
Custom Fabricated Glass Marker Boards