The Ins and Outs of Glass Fabrication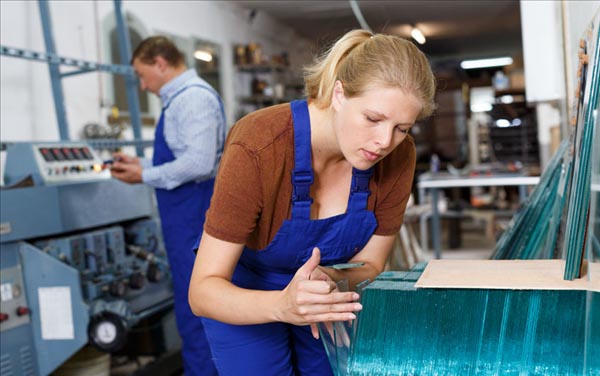 Designing a specific piece of glass can be challenging, especially with the various terms, design choices, and finishes available.  Below, let's take a closer look at the glass fabrication process.
What are all of these terms?
There are many glass fabrication terms that are used in the manufacturing and finishing process.  These terms can be confusing and difficult to distinguish.  More so, it can be hard to determine when a particular finish might be beneficial to an application. Below, let's look at each term in more detail.
Edgework: This term is used to describe the finish on the edge of the piece of glass.  A flat polish keeps the glass edge at a 90 degree angle to the surface with a polished edge.  Pencil polish creates a rounded edge that meets the front surface of the glass.  Any of these edges can be used for safety reasons or to add a particular look to suit the need of a project.  A beveled edge creates a slight angle that gently slopes between the front surface of the glass and the edge.  Bevels are often used in mirrors or shower surrounds to add an element of design.  The degree of angle used in the bevel can vary depending on the particular project.  A miter edge is an exact 45 degree angle between the front surface of the glass and the edge.  Miters are used when joining two pieces of glass together at a corner.  The miter creates a seamless and strong corner joint.
Sandblasting: A step in the final finishing, sandblasting is a process that creates a frosted appearance to the glass.  This will obscure the view through the glass while still allowing light to penetrate.  Often, sandblasting will be added to glass that will be used for privacy.  Most commonly, customers will request sandblasting on shower or tub enclosures.
Cleanshield: Customers will often choose to have a cleanshield process applied to their glass to allow for easier cleaning.  This process can be added to sandblasted glass to help clean the glass.  Cleanshield is also applicable in high traffic areas where the glass is expected to become dirty often.
Pattern or Drawing: Custom shapes are often needed for intricate glass designs.  For regular shapes, a glass manufacturer will use a pattern to create the shape.  For more detailed or irregular designs, a glass manufacturer is able to create a cut piece of glass from a drawing.
Holes and Notches: Holes and notches can easily be added to any piece of glass and are exactly how they sound.  Holes can be added to allow room for screws or other attachment hardware.  Or, holes may be useful in a project such as a tabletop for computers that requires room for cords and cables to pass through.  Notches can be added around glass to suit a specific design.  This can be to fit around already existing structures or to fit a piece of hardware.  Notches can also be used in framing applications.
Why are these elements needed?
Often, design edgework or specific cut-outs are needed for functionality.  Glass must be cut to fit a certain area or must be attached with hardware or handles.  Edgework can also be added to suit a design need, obtain a certain look, or for the safety of the project.
Who uses these designs?
Anyone who may order custom glass fabrication could use these various finishes, cuttings, or techniques.  Interior designers, architects, or building manufacturers who need specific glass pieces will also make use of various glass design elements.
Why get glass from us?
At Northwestern Glass Fab we have an expert team that will help lead you through your glass manufacturing project from start to finish.  We have the best, state-of-the-art machinery that can meet any requirements or design challenges you may throw at us.  Plus, we are dedicated to customer service providing an enjoyable and professional experience every step of the way.
How do I order?
To start the process of ordering your glass speak with our sales team.  Our knowledgeable and caring professionals will help guide you and answer any questions you may have.  To start the process, call our team today at 763-762-1750.
https://www.nwglassfab.com/wp-content/uploads/sites/7/2022/12/The-Ins-and-Outs-of-Glass-Fabrication.jpg
376
600
theboss
https://www.bringlass.com/wp-content/uploads/sites/7/2022/12/logo-Northwestern-Glass-Fab-2.png
theboss
2019-03-13 10:17:42
2022-12-16 11:30:02
The Ins and Outs of Glass Fabrication