Why You Should Choose Our Shower Doors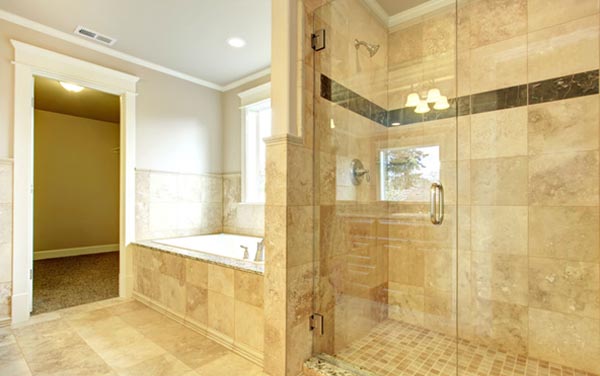 If you're designing a new bathroom for your next interior design project, an easy way to spruce up the room and enhance guest or tenant experience is by adding a glass shower door versus a standard shower curtain. When you choose to work with Northwestern Glass Fab, you're getting the best in the industry. Our experts can help you decide the types of glass and hardware you need, and offer you additional features to make the space stand out.
Glass Types
When you choose Northwestern Glass Fab for your shower design, you can pick from a variety of different glass types. We offer five different types of glass, each of which brings a unique look to your space. The glass types are:
Clear glass – Clear glass is the most common glass used for shower doors. It has minimal greenish tint and is incredibly easy to clean.
Frosted glass – Frosted glass is also one of the most common glass types used for shower doors. This design is created by acid etching clear glass to give it a satin-like appearance.
Low-iron glass – Most glass naturally has a greenish tint to it. However, this glass is made with a reduced iron content which takes away some of the greenish tint. Because of this, the glass is great for clarity, provides higher light transmission, and has a more colorless appearance.
Colored glass – By coloring the glass for your shower door, the glass becomes more tinted, while still maintaining opacity.
Rain glass – Rain glass is treated to show a vertical pattern of rain. This design adds a unique look to your door and is easy to clean.
Door Types
At Northwestern Glass Fab, we offer two types of glass shower doors. Each of these doors offers a variety of advantages.
Frameless – If you choose to go with a frameless shower door, you automatically increase the value of your bathroom while adding luxury to your life. Designers often use frameless doors to transform the space to include more light and add a touch of elegance.
Framed – Framed shower doors are extremely common and highly useful. They do not leak, and the hardware adds a touch of beauty.
Glass Protection
At Northwestern Glass Fab, we offer two types of glass protection products. These protection tools keep your shower door in great shape, while also making it easy to clean. The two types of protection tools are:
Guardian ShowerGuard – This glass protection coating protects your shower glass from common wear and tear, as well as from harsh cleaning agents. The ShowerGuard is permanent and proven, which provides an invisible barrier to protect your glass.
ClearShield – This glass protection product can be compared to 'non-stick' cookware in the way that it resists water damage and limescale build-up. ClearShield keeps your glass looking new and makes it far easier to clean.
Hardware
We offer various hardware options to go with your shower glass, as well as varying finishes for that hardware. Our three types of hardware are:
Door hinges – We offer two types of door hinges: pivot hinges and side-mount hinges. Pivot hinges are used for frameless shower doors and are mounted on the top and/or bottom of the door. Side-mount hinges are attached to the side of the door and are used for framed shower doors.
Metal clips/clamps – There are two types of clamps/clips for shower doors: metal clips and U-channels. Metal clips secure the panels to the floor, wall, or whatever else it needs to be attached to, making it seamless, which is crucial for frameless showers. U-Channels are the rails along the base of the shower that the glass rests in.
Door handles – We offer a variety of high-end shower door handles for any design preference. Each handle is available in a variety finishes so you can choose the finish that matches your design. The finishes are chrome, brass, nickel, and bronze.
Contact Northwestern Glass Fab Today
If you're in the greater Minnesota and Western Wisconsin area and are looking for a reputable glass distributor, contact us today. We have been serving satisfied customers for over 100 years. To learn more, call us at 763-762-1750 or message us on our contact page.
https://www.nwglassfab.com/wp-content/uploads/sites/7/2022/12/Why-You-Should-Choose-Our-Shower-Doors.jpg
376
600
theboss
https://www.bringlass.com/wp-content/uploads/sites/7/2022/12/logo-Northwestern-Glass-Fab-2.png
theboss
2019-05-13 12:13:01
2022-12-16 11:30:01
Why You Should Choose Our Shower Doors