Glass Fabrications vs. Glass Manufacturing: What's the Difference?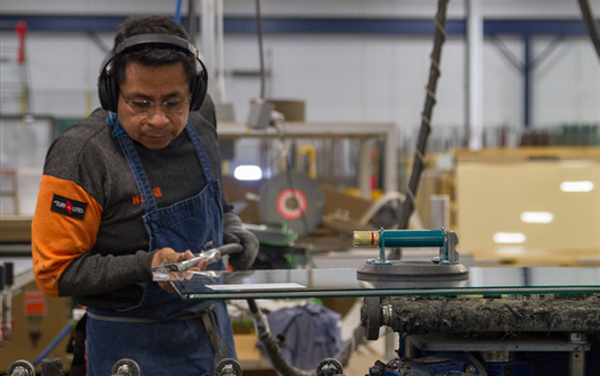 You may hear the terms glass manufacturing and glass fabrication interchangeably. Although many people in the glass industry use both terms every day, there can be much confusion over what they actually mean and how they are applied into the products and services that are offered.
Northwestern Glass Fab provides glass fabrication (not manufacturing) services. Below, we go into more detail about what fabrication is and how it differs from manufacturing.
What is Glass Manufacturing?
Glass manufacturing has been around for thousands of years going all the way back to ancient Egypt and Mesopotamia. Although modern methods have changed the way companies produce glass, the concept is relatively unchanged.
Manufactures heat sand that contains silica, soda ash, and lime to high temperatures and then allow them to cool down. During the cool-down period, designers can mold glass into virtually any form. They can blow the glass or pour it into molds. In our industry, manufacturers produce "flat glass" by heating the ingredients to a molten state and then "floating" it on a hot bed of liquid tin. As the glass cools it is then switched to a conveyor with rollers and eventually cut into large sheets. This is known as "float" glass, and is used in many different architectural products.
Manufacturers can add color or opacity to the glass while improving its quality and durability. While the process may seem relatively straightforward, shaping the glass requires absolute precision during the cooling process.
Modern glass production techniques allow glass to be manufactured into clear, painted, tinted, inlaid with wire, patterned, frosted, made into low-iron glass, laminated, fire-rated, made with a mirror finish, insulated, and heat resistant.
What is Glass Fabrication?
Once the manufacturer designs and creates the glass, it comes to our facility where we fabricate it to your specifications.
The methods we use for fabricating glass are on an entirely different level than the methods the manufacturer uses to make the glass.
There are numerous processes involved in fabricating glass. Some of the most common methods include:
Tempering
Cutting
Grinding
Drilling
Laminating
Insulating
Edge Polishing
Bending
Etching
Historically most of the techniques used to be done by hand, but now computer-based computer numerical control (CNC) machines now fabricate glass with absolute precision down to the finest detail. CNC machines contain special tools to achieve pinpoint accuracy and glass manipulation capabilities.
Companies will often use CAM or CAD software programs to design the finished product and interact with the CNC machines. The programs can produce virtual drawings or technical illustrations that serve as guides for cutting, grinding, polishing, or other methods.
The Role of the Fabrication Company
Fabricators often act as the mediator between the manufacturer and the purchasing agent. For instance, if a company or interior designer needs a piece of glass or a large order of glass to be customized to match a room design or perform a particular function, they may contact the fabricator. They will supply the necessary specifications for the desired product.
As the fabricator, Northwestern Glass stocks or orders the specific glass needed from the manufacturer, and then supply the glass needed for the project. Once all of the information is provided by the client, we will then fabricate it to their specifications.
The fabricator will then send the finished product to the purchaser. In most case, the purchaser is also the mediator between the fabricator and the customer. The purchaser could be an interior designer, retailer or anyone requiring fabricated glass.
Quality Fabricated Glass From Northwestern Glass Fab
If you are looking for custom fabricated glass for your home or business, contact Northwestern Glass Fab. We work with manufacturers to personalize your glass precisely the way you want it.
To find out more about our products and services, call us today at 763-762-1750, or message us on our contact page.
https://www.nwglassfab.com/wp-content/uploads/sites/7/2022/12/Glass-Fabrications-vs-Glass-Manufacturing.png
376
600
theboss
https://www.bringlass.com/wp-content/uploads/sites/7/2022/12/logo-Northwestern-Glass-Fab-2.png
theboss
2018-08-13 09:05:59
2022-12-16 11:30:04
Glass Fabrications vs. Glass Manufacturing: What's the Difference?