Enhance Your Space With Custom Glass Walls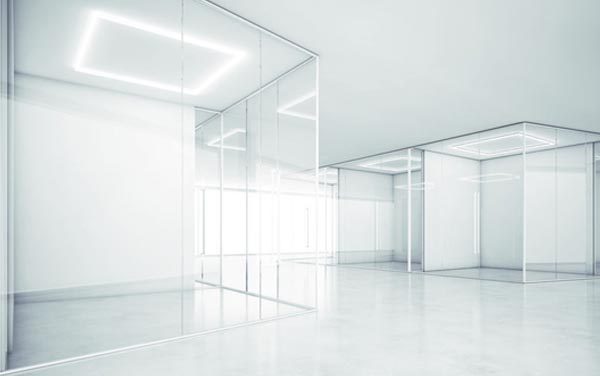 What are Glass Walls?
Frameless glass walls are now common features in many places of business. A glass wall adds a level of sophistication to any room and makes your space feel light and open. Not only do they add natural daylight, but they are also designed to repel UV rays, which creates a safer space. Additionally, the glass can be treated so it provides privacy in areas where it is needed, such as individual offices. Here, our experts at Northwestern Glass Fab will discuss the glass walls and hardware we offer, as well as their uses.
How are they Used?
At Northwestern Glass Fab, we carry three types of glass walls: demountable wall systems, glass partitions, and glass entrances. Each of these comes with its own hardware, which allows them to flow seamlessly and create the desired feel. In addition to adding elegance to office buildings and other places of business, glass walls are also used in the retail industry to show products in storefronts, in data centers to control temperature and visibility, as well as in hospitals for observation rooms, and more.
Why are they Needed?
Glass walls are needed for a variety of reasons. They can simply add an element of elegance to their space. With our customized, high-end German engineered hardware designed to make your walls seamless, you can create a modern look in your space, no matter how old it is.
Additionally, glass walls provide separation between certain rooms, such as offices or suites. They can even be treated with certain textures and finishes so they provide even more privacy between these spaces, as well.
Who Uses Them?
Glass walls can be installed in many areas to enhance the sophistication of a space. There are often glass walls in new, modern offices, as well as conference rooms in business places. Additionally, glass walls are frequently found in sports settings. These glass walls are typically used on the outside of the stadium to create a reflective image that also allows passersby to see into the stadium. To see projects we provided the glass for, visit our portfolio today.
Why Get them from Us?
Since 1912, Northwestern Glass Fab has been customizing and distributing the highest quality glass products for our customers. Our expert team can do it all in house from the fabrication of the glass to cutting, tempering, shipping the glass, and everything in between. Our team is equipped to work on nearly any project; we can even take on large, national projects.
Contact Northwestern Glass Fab Today
At Northwestern Glass Fab, our team has been providing our customers with the highest quality glass products for over 100 years. Proudly serving the Greater Minnesota and Western Wisconsin, we provide state-of-the-art hardware in addition to our glass products to ensure they remain durable and last for years to come. To learn more about our high-quality products and services, give us a call at 763-762-1750 or message us on our contact page today.
https://www.nwglassfab.com/wp-content/uploads/sites/7/2022/12/Enhance-Your-Space-With-Custom-Glass-Walls.jpg
376
600
theboss
https://www.bringlass.com/wp-content/uploads/sites/7/2022/12/logo-Northwestern-Glass-Fab-2.png
theboss
2019-07-13 13:35:45
2022-12-16 11:30:00
Enhance Your Space With Custom Glass Walls